All Upcoming Workshops are Cancelled 
We're coming to you!
The NC LIVE team and special guests will be visiting a library near you this spring! Join us at an NC LIVE Regional Workshop to learn about NC LIVE, network with peers, and gain transferable skills to take back to your community. While much is similar to past years (still free, still includes lunch!), this year we've added Skills-Based Training to our lineup.
Note: if you're a staff member at an NC LIVE member library the workshop is free! All other interested parties will be asked to pay a small registration fee.
RESOURCE TRAINING 
Whether you're staffing a reference desk, teaching information literacy classes, promoting library resources, or managing electronic databases, it's important to know the ins and outs of your NC LIVE resources to help your communities succeed. In the Resource Training Track, you'll get hands-on training with NC LIVE resources from the experts. The registration form will ask you to rank the resources/services you'd most like to learn about at the workshop, so each agenda is catered to that day's attendees. We'll explore content, navigate databases, and brainstorm ways to use them in your communities. 
LEADERSHIP DEVELOPMENT 
NCLA along with the Leadership, Administration, and Management (LAMS) Section is pleased to partner with NC LIVE on regional workshops for library leaders.
"We are excited for the opportunity to see our mission of 'Developing leaders, building skills, and creating networks' come to life in this way."- Brandy Hamilton, Chair, LAMS. North Carolina Library Association - Inform. Connect. Support.
Guest facilitators will share their knowledge on specific leadership competencies and guide you through common leadership challenges. Some of the competencies we will cover include:
leading organizational change
managing conflict
finding talent
developing strategy
navigating workplace politics
Whether you are in a leadership position already, or aspire to be, consider registering for an upcoming NC LIVE regional workshop. Is there a local library leader that you'd like to suggest as a session facilitator? Send a message to help@nclive.org. 
SKILLS-BASED TRAINING
Develop the skills you need to thrive at your library and advance your career. Led by regional librarians, participants will get hands on practice with important skills such as: instruction, event planning, time management, and more! Have an idea for skills-based training? Email help@nclive.org.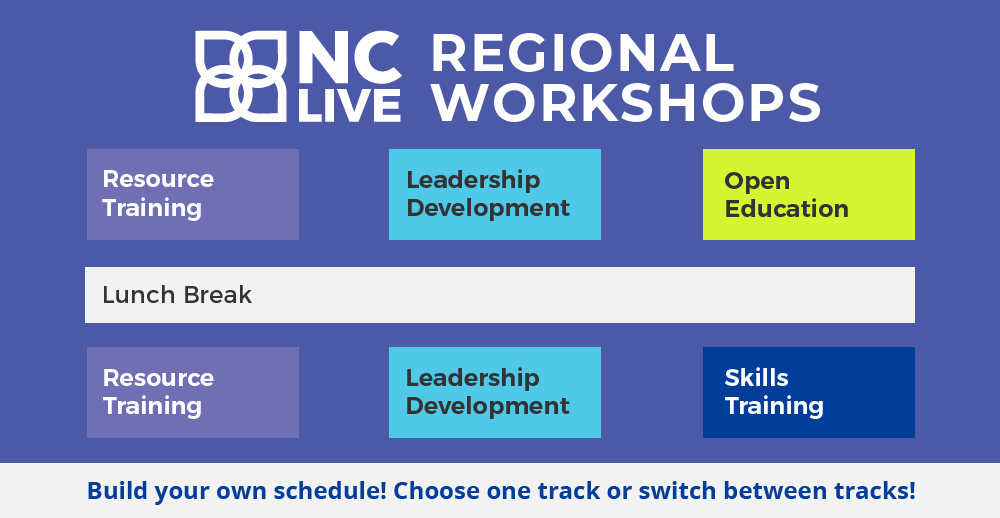 "This was
time well spent! There was a lot of information packed in to a short amount of time. I have paid for leadership workshops that were less useful than this free one!"
"The presenters were very relaxed and approachable which created the feeling of a shared learning experience rather than a simple lecture designed to disseminate facts."
"Meeting NC LIVE staff and librarians on the various advisory councils makes me feel more comfortable about reaching out with feedback concerning future resources."
"I felt that the meeting was very productive. The subject-based handout was particularly helpful."
"Having the regional meetings was a great idea. Travel budgets are limited so it was nice to be able to take a day trip for professional development, refresh and meet the new NC LIVE staff! Please keep offering these regional meetings!!"